A group of children who had approached the municipality with a request to have a MUGA-field installed, received more than they had bargained for. Their artificial turf multi-games field that has been installed, has the smallest CO2-footprint possible.
It all started when some children petitioned the Oss City Council to install a safe and durable sports field in their suburb where they could safely play a variety of sports. Kids being kids, they aspired to, one day, become a professional athlete, a dream that required a safe and decent playground. They had many local heroes to look up to. Oss is the birthplace for some of the finest Dutch athletes, including volleyball players Bas and Mike van de Goor, former football player Ruud van Nistelrooy, former MLB pitcher Loek van Mil and hockey player and coach Marc Lammers, to name a few. The city is also the birthplace of one of the first producers of artificial turf carpets before it sold its activities to other players in the market.
Recognising its responsibility to invest in an artificial turf surface that would answer the immediate call but would also not have a negative impact on the generations to come, Oss municipality asked RSI SPORTS for a Grass2Grass surface, an award-winning and relatively young product. The city's willingness to embrace innovation was also in line with its history in and experience with artificial turf carpets.
Raw material with everlasting value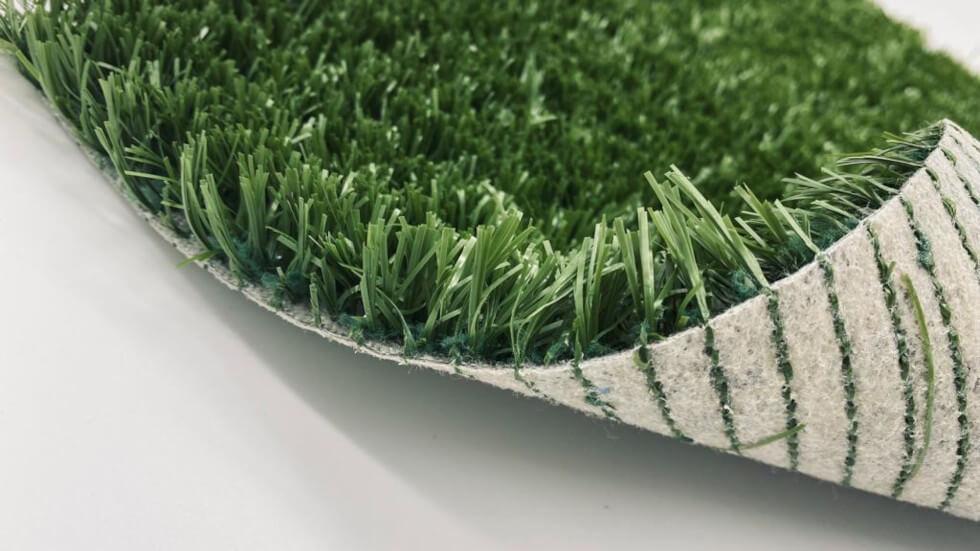 Grass2Grass had stirred up the entire artificial turf market as it had reverted to historical experiments and trials in a quest to develop a sustainable artificial turf carpet of which its value will increase during its lifetime. The entire top layer, consisting of yarn, backing and glue, is produced from polyester. Polyester can be re-used multiple times, making it, over time, even more valuable in light of the increasing international drive to become less reliant on virgin raw materials. This is 1-DNA at its finest and purest, as Grass2Grass can completely be used for the production of new artificial turf. The artificial turf industry had already identified the advantages of polyester in the 1970s. However, due to its significantly higher value compared to the polypropylene and polyethylene that were available in vast amounts at the time, polyester eventually dropped off their radar. As the price for polyester came more in line with what is being paid for degenerative materials like polypropylene and polyethylene, RSI SPORTS, the inventors of Grass2Grass, saw the strategic advantage when the Dutch government issued a call to develop "the most sustainable artificial grass". With years of experience to draw from, RSI SPORTS took on the challenge and saw their product being recognised when they claimed the national award for "the most sustainable artificial grass" in 2019.
Sequestering carbon dioxide
The new MUGA-field in Oss was installed by RSI SPORTS artificial turf installation partner European Turf Group. They took the municipal invitation to install a sustainable artificial turf surface to another level, by using olivine mineral infill to stabilise the carpet. Compared to the silica most installing companies use, olivine has the advantage that it extracts and stores carbon dioxide from the atmosphere. Together, the limited CO2 footprint of reusable polyester and the negative CO2 footprint of olivine deliver the new MUGA-court the smallest CO2 footprint possible.
Its olive-green color also allows the olivine mineral infill to blend in nicely with the green carpet, thereby contributing to a more natural appearance.
Olivine mineral infill is just one of the mineral or performance infills that can be used to finish a carpet in accordance with specific requirements. The same applies to the carpet. While the carpet used in Oss uses a 20 mm monofilament fibre, RSI SPORTS can also supply Grass2Grass knit-de-knit yarns, slit-film yarns or texturised yarns. Approval by sports governing bodies like FIFA and FIH is currently pending.
New financing model
With the Grass2Grass concept being relatively new to the market, Oss municipality opted to follow its traditional financing model to fund the installation. However, RSI SPORTS also offers a Product-as-a-Service (PaaS) concept, whereby RSI SPORTS guarantees a certain usage or lifespan of the artificial turf while remaining the owner of the carpet. In other words, prospective owners of artificial turf surfaces no longer have to worry about a capital layout or premature depreciation of their investment. Adopting such a financing model could free up significant amounts of "public money" that municipalities could use elsewhere to deliver service or improve the quality of life of local residents.
The RSI SPORTS portfolio even has a solution that combines the delivery of shock absorption and horizontal drainage in one. RSI SPORTS Turf Panels are produced from reclaimed plastic. As these panels deliver a plane load instead of the point load usually experienced with traditional shock pads, RSI SPORTS Turf Panels are also more forgiving to the joints.
These Turf Panels do not require significant engineering of the site, which could allow for establishing a temporary or mobile sports field for a limited period of time without having to worry about rehabilitating the site.
Ready to shine
The new MUGA-court in Oss was handed over in late May, just in time for the start of the school holidays. It immediately satisfied the children in the neighbourhood, as they no longer would have to travel far to be active or to socialize. It will now be only a matter of time before the next local elite-player athlete will be identified in Oss.
RSI SPORTS will closely monitor its usages and acceptance. While it has been produced from a new but more sustainable raw material and hands owners a different but more profitable investment model, it is the player experience and the satisfying of both the present and future generations that it is all about. One thing is for sure: by investing in a Grass2Grass MUGA-court, the Oss City Council has truly delivered on its mandate.